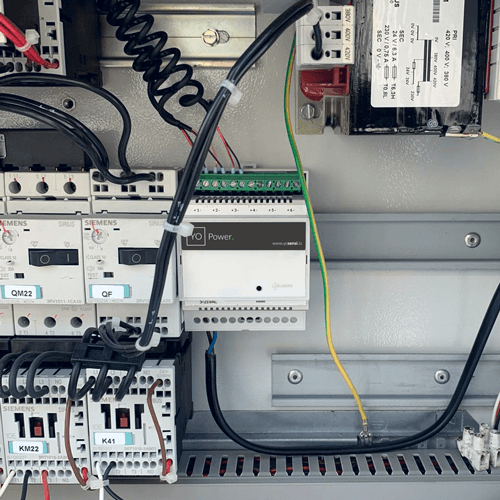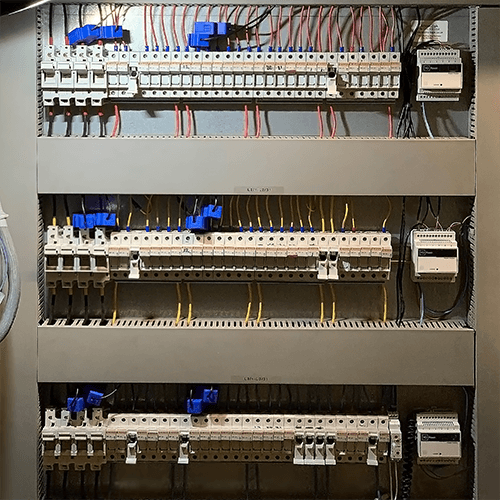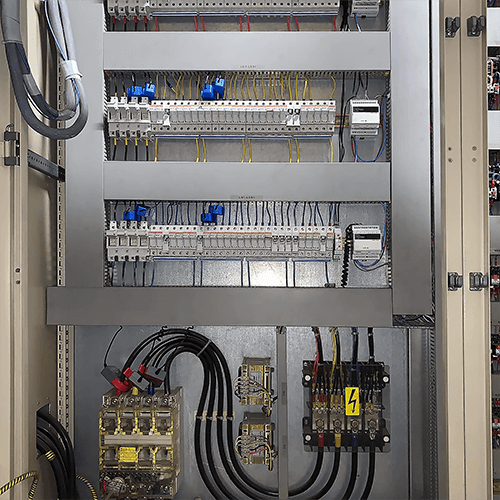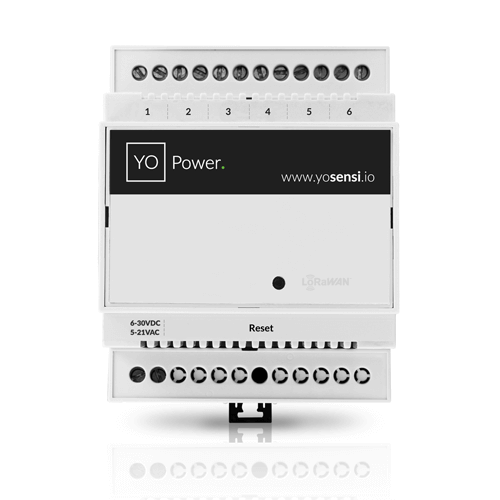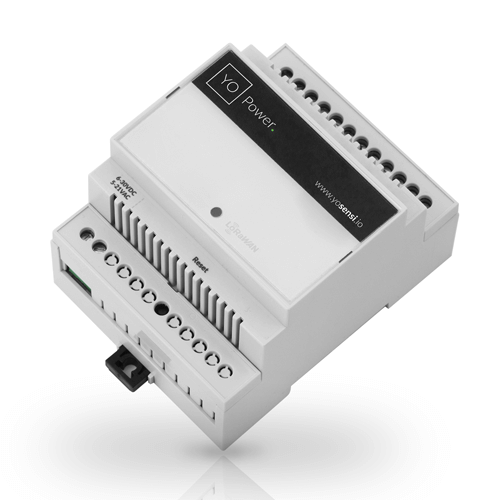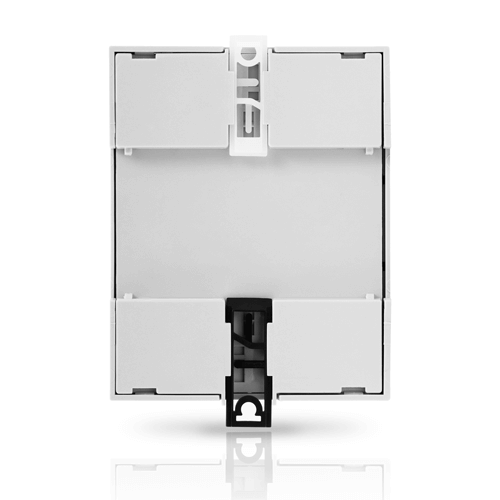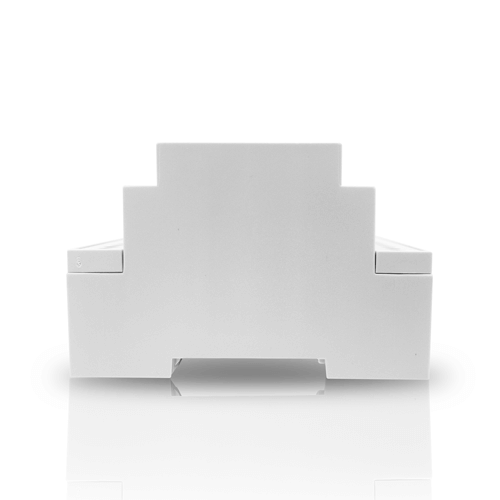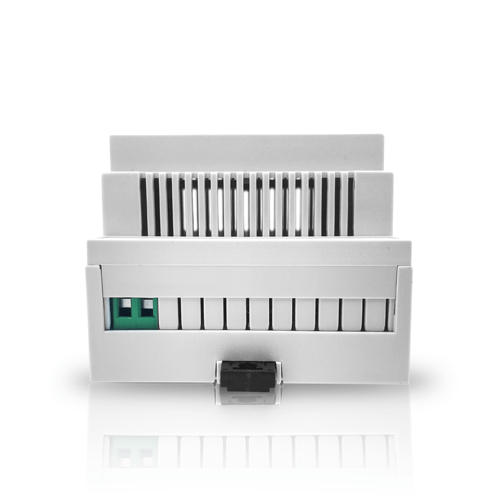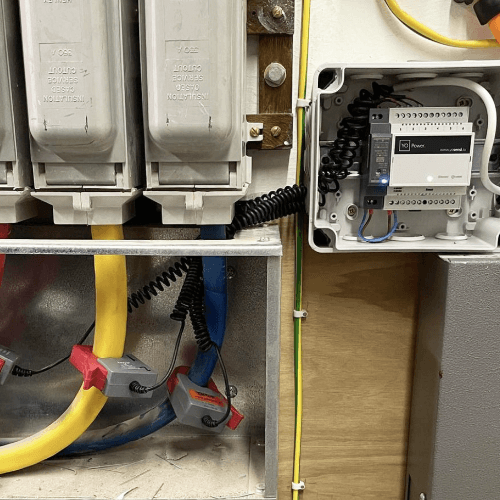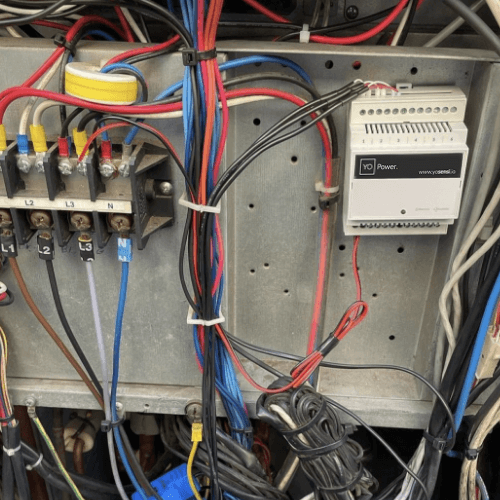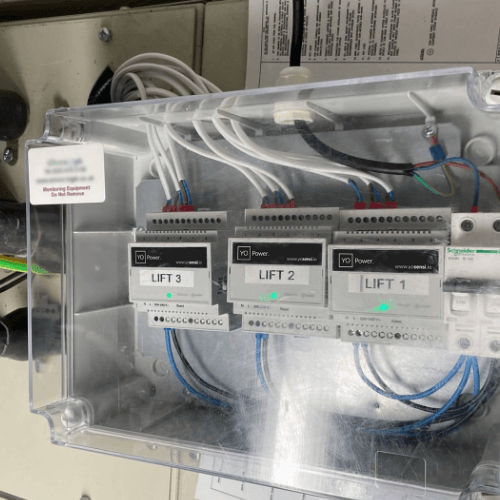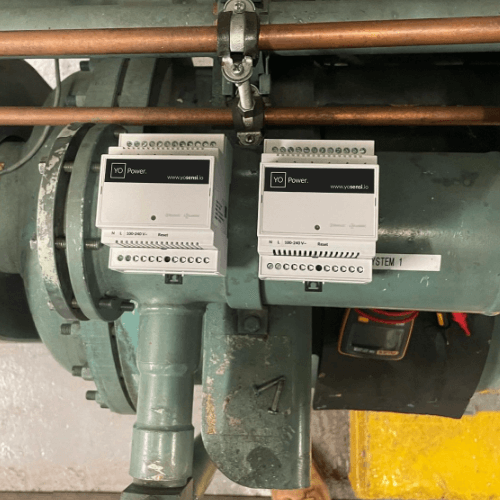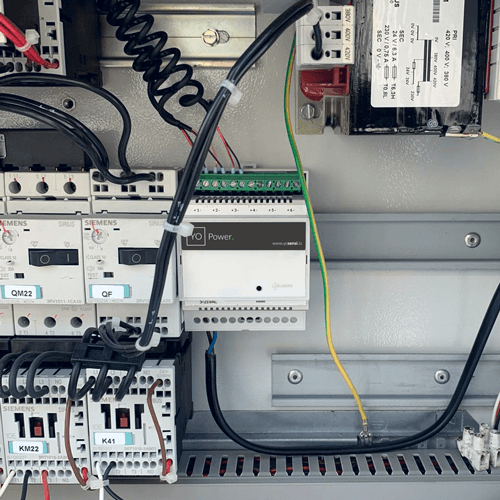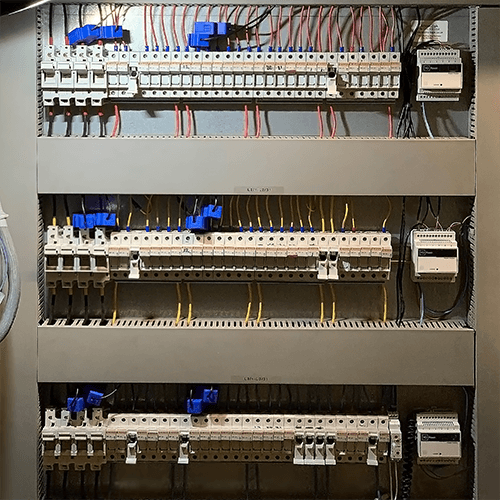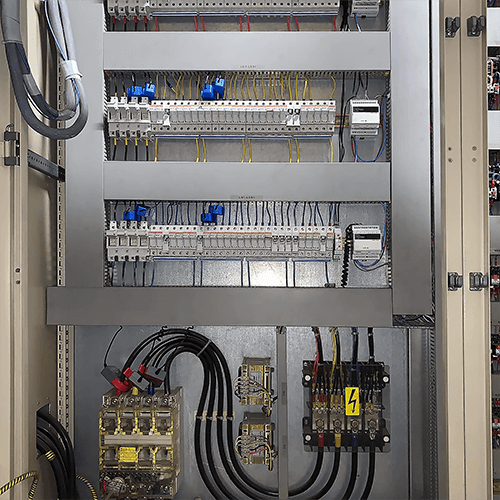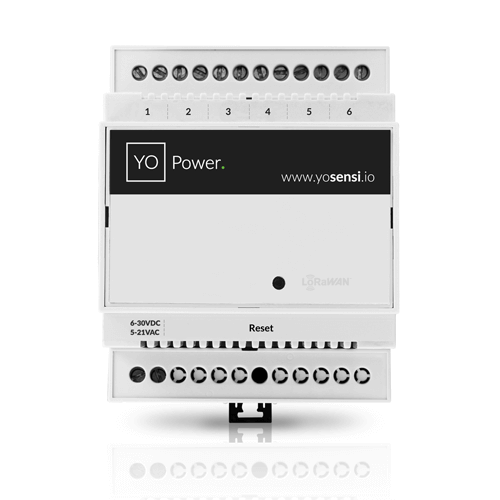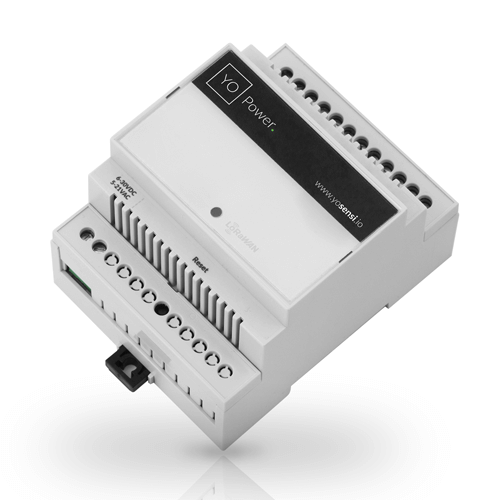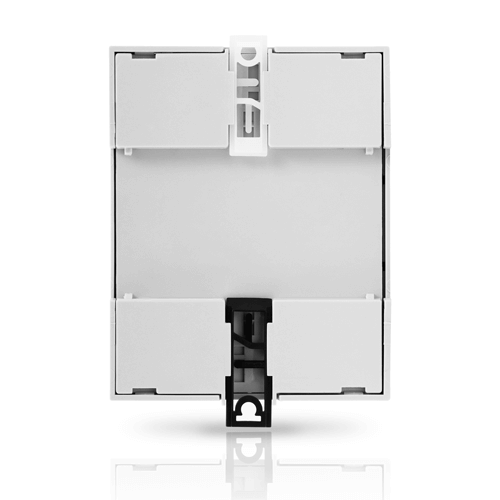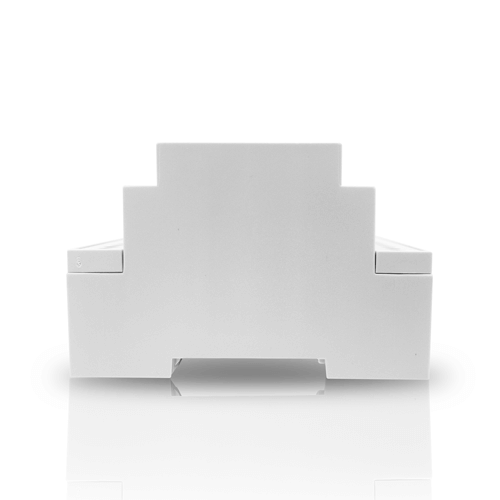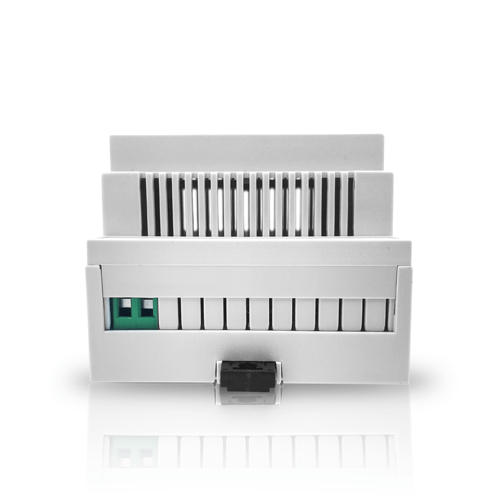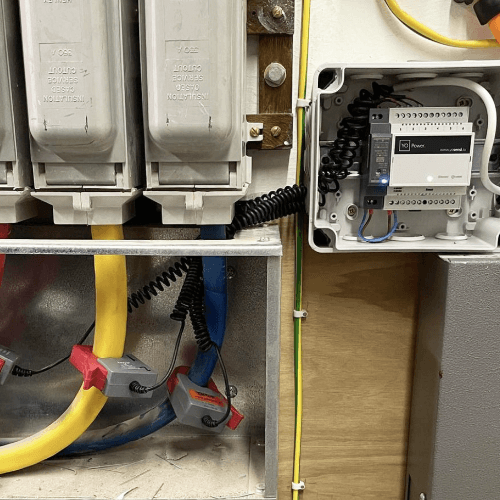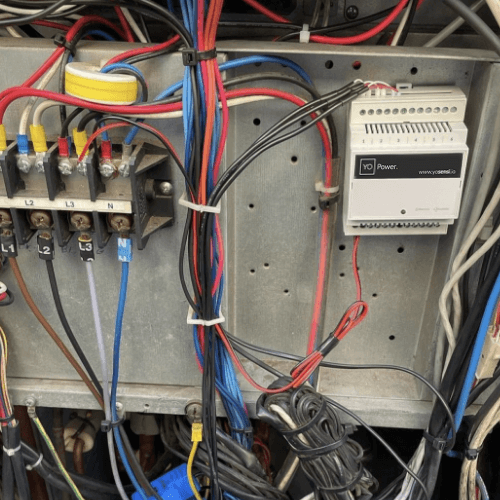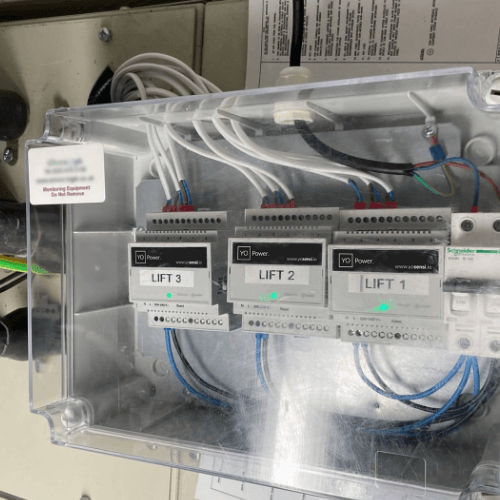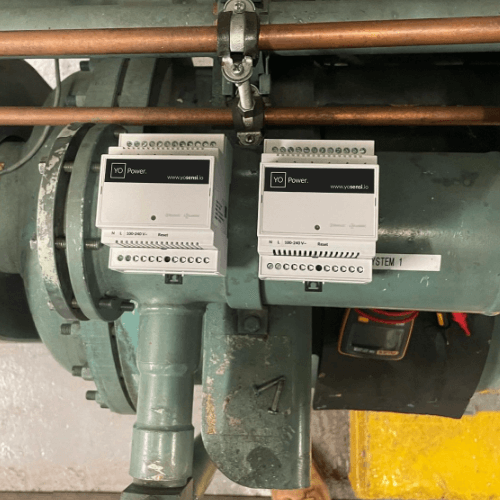 YO Power
Enclosure type
• DIN rail, IP67
Band
• EU868, US915, AU915, AS923
Additional probes
• current clamp model A, current clamp model B
Certificate
•
quote request
Description
YO Power measures AC current flowing through devices connected to the mains. It can be fitted with up to six current clamps. It is possible to connect current-rated clamps with current output from almost every manufacturer. One YO Power device can measure multiple currents simultaneously (e.g. in one three-phase device, two three-phase devices, six single-phase devices, three single-phase devices, etc.).
The device offers automatically switchable measurement ranges: 2 A, 10 A, 50 A, 100 A., which results in even greater precision when measuring current. Each channel can measure current over different measuring ranges simultaneously.
YO Power helps users quickly diagnose irregularities resulting from, for example, excessive electricity consumption, preventing errors and production downtime.
The device communicates wirelessly over LoRaWAN. We are a member of the LoRa Alliance, which is responsible for data transmission security.
Key features
Monitors up to 6 current clamps
Possibility of connecting current-rated clamps with current output from almost every manufacturer
Automatically switchable measurement ranges: 2 A, 10 A, 50 A, 100 A
Each channel can measure current over different measuring ranges simultaneously
Reverse polarity of current clamps protection
35 mm DIN rail or an IP67-sealed enclosure
An algorithm that effectively maps power consumption
Non-invasive mounting without interrupting equipment operations
Supported LoRaWAN network type: private or public and connection over ABP or OTAA
ISM band selectable for regional needs (EU868, US915, AU915, and AS923)
Configuration via Bluetooth Low Energy 5.0
Firmware update over BLE
Yosensi Configuration Web Tool for convenient firmware updates and device configuration
Wide network coverage and relatively low energy consumption
High-quality product made in EU
Sample charts of collected data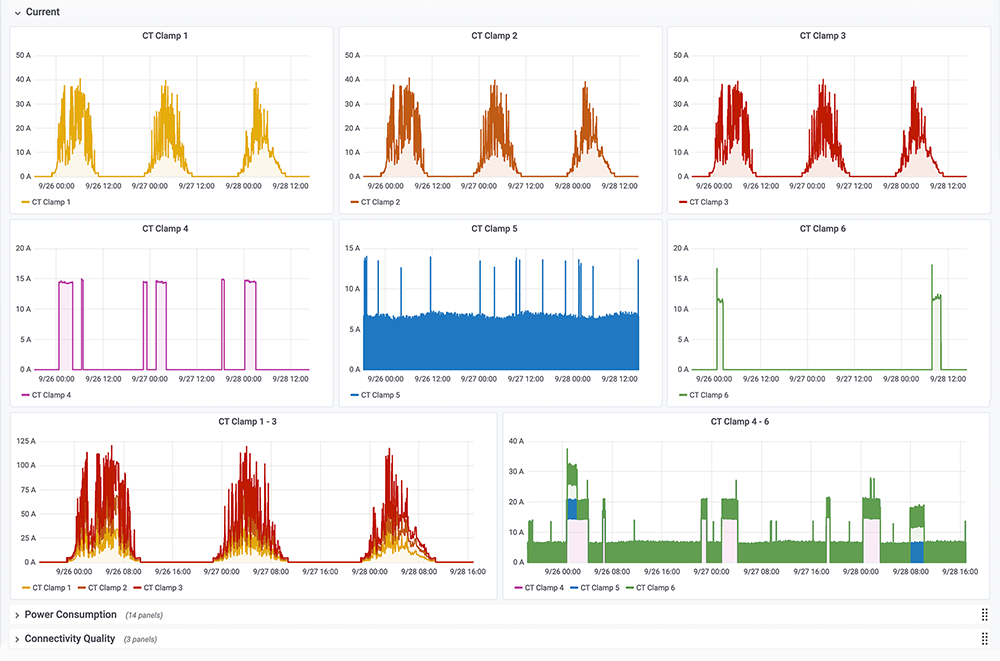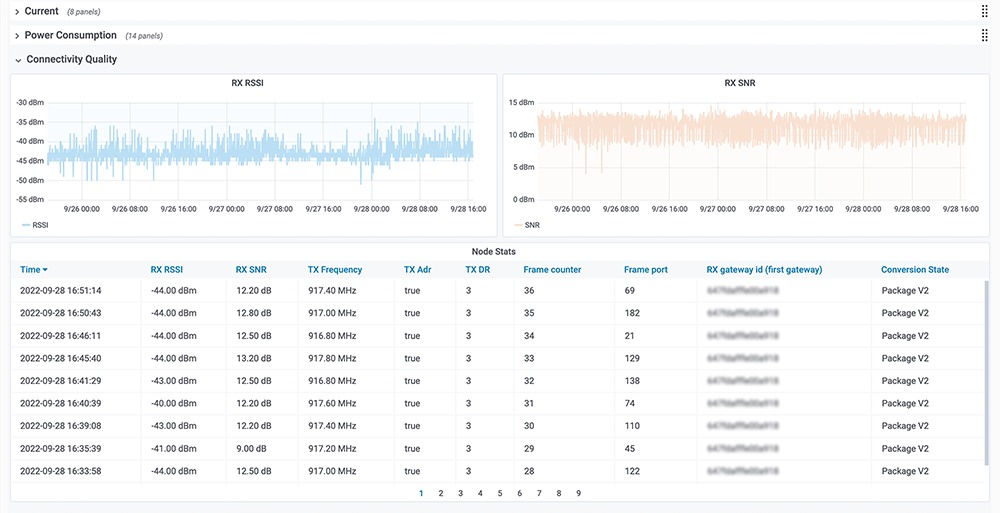 Parameters
Tx Power:
• LoRa EU868: to +14 [dBm]
• LoRa US915, AU915, AS923: to +22 [dBm]
• Bluetooth Low Energy (BLE): -20 to +6 [dBm]
Power supply:
• 6 - 30 V DC
• 5 - 21 V AC
Power consumption:
• Typical: 12mA DC (12 V DC)
• Maximum: 120mA DC (12 V DC)
Weight:
• 146 g
Certificates:
Enclosure
Dimensions:
• Height: 90 mm
• Width: 71.2 mm (4 pole)
• Depth: 58 mm
Colour:
Light grey (RAL 7035)
Installation:
35 mm DIN rail standard
Enclosure material:
Polycarbonate
Fire resistance class:
UL94 - VO
Level of protection:
IP20
Additional probes
Current clamps
Model A
Model B
Dimensions:
• Height: 57 mm
• Width: 32 mm
• Depth: 22 mm
• Cable length: 1 m
• Height: 75.5 mm
• Width: 67.5 mm
• Depth: 24 mm
• Cable length: 1 m
Installation:
For a cable with a maximum diameter of 13 mm
For a cable with a maximum diameter of 27 mm
Enclosure material:
Polycarbonate
Maximum working voltage:
660 V
720 V
Dielectric strength:
6 kV AC 50 Hz / 1 min
3,5 kV AC 50 Hz / 1 min
Working temperature:
-25°C ~ + 70°C (77°F ~ 158°F)
Fire resistance class:
UL94 - VO
Measuring range:
0 - 100 A - accuracy ± 1 %
0 - 160 A - accuracy ± 3 %
Resources